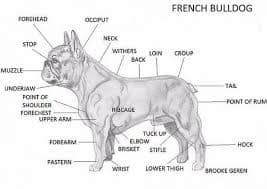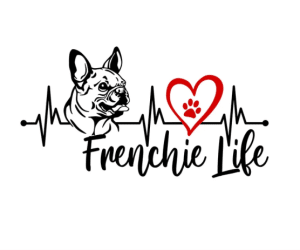 ORIGIN
The French Bulldog originated in 19th Century Nottingham, England, where lace makers decided to make a smaller, miniature, lap version of the English Bulldog that was referred to as a "toy" bulldog. In the 1860s, when the Industrial Revolution drove the craftsmen to France, they took their dogs with them. The toy bulldogs became popular in France and were given the name the "French Bulldog." The breed eventually made its way back to England for dog shows. The Brits were not happy with the name "French" given to a dog that was originally from England, however the name "French Bulldog" stuck.
With their charm and size they were soon discovered by Americans as well. The United States saw its first French Bulldog at the Westminster Kennel Club show in 1896. The breed was quickly nicknamed "Frenchie," and it is still an affectionate name that is used today.
Besides being companions, they once served as excellent ratters, but today their job focuses on being fabulous family friends and show dogs. Even apartment dwellers and first-time pet parents will love this affectionate breed. The Frenchie likes to play, but he also enjoys spending his days relaxing on the sofa.
The one-of-a-kind French Bulldog, with his large bat ears and even disposition, is one of the world's most popular small-dog breeds, especially among city dwellers. The Frenchie is playful, alert, adaptable, and completely irresistible.
The French Bulldog resembles a Bulldog in miniature, except for the large, erect 'bat ears' that are the breed's trademark feature. The head is large and square, with heavy wrinkles rolled above the extremely short nose. The body beneath the smooth, brilliant coat is compact and muscular. The bright, affectionate Frenchie is a charmer.
Frenchies don't bark much' but their alertness makes them excellent watchdogs. They will alert their people to approaching strangers, but it's not their style to bark without cause. They can be protective of their home and family and some will try to defend both with their life.
They happily adapt to life with singles, couples, or families, and do not require a lot of outdoor exercise. They get on well with other animals and enjoy making new friends of the human variety. It is no wonder that city folk from Paris to Peoria swear by this vastly amusing and companionable breed.
Frenchies have lovable personalities
This was the most frequently mentioned reason for choosing a Frenchie: they're funny, lovable personality. They are social, friendly, and very easy to train and smart.
Frenchies have small size
French Bulldogs are small, 11-12 inches tall, and usually don't weigh more than 30 pounds, and this fact makes them very popular. It's easy to carry them wherever you go and they easily fit in a small apartment. The French Bulldog is small but substantial in build with a powerful muscular body.
Frenchies are great with kids and other dogs
Frenchies are loving companions who thrive on human contact. French Bulldogs are not jealous of kids, other dogs, and cats, and get on very well with them. They generally get along well with everyone, including children. This is very important for families and grandparents. Frenchies are your best friends, and in these challenging times, adults and kids find consolation in their sweet puppies.
What To Expect When Caring For a French Bulldog
GROOING
They sport an short easy-care coat to accompany his easygoing personality. The Frenchie's short coat sheds minimally. Weekly brushing with a medium-bristle brush, a rubber grooming mitt or tool, or a hound glove will help to remove shed hair and keep him looking his best. Brushing promotes new hair growth and distributes skin oils throughout the coat to help keep it healthy.
Clean ears regularly with a damp warm cloth and run a cotton swab around the edge of the canal. Never stick the cotton swab into the actual ear canal. If the edges of the ears are dry, apply mineral or baby oil sparingly. The oil can also be used on a dry nose.
French Bulldogs do not naturally wear their nails down and will need their nails trimmed regularly. This prevents splitting and tearing, which can be painful for the dog.
Keep the facial wrinkles clean and dry to prevent bacterial infections. Whenever you bathe your dog, take the time to thoroughly dry the skin between the folds. Bathe your French Bulldog monthly or as needed, and use a high-quality dog shampoo to keep the natural oils in his skin and coat.
EXERCISE
French Bulldogs do not need a lot of room and do very well in apartments or small dwellings. A couple of 15-minute walks per day should keep them from becoming overweight. Frenchies enjoy participating in canine sports such as obedience, agility, and rally. As a flat-faced breed, however, they are prone to breathing difficulties and should never be allowed to exert themselves in hot or humid weather.
TRAINING
Early socialization and puppy training classes are recommended. Exposing the puppy to a wide variety of people, places, and situations will help him develop into a well-adjusted adult. Puppy training classes serve as part of the socialization process, promote good behavior, and help the owner learn to recognize and correct bad habits. Frenchies have big personalities and can need a fair amount of training to make them civilized companions. They can be stubborn, but at heart they're people pleasers and therefore easy to train. The proper motivation (such as food) and making a game of the process will ensure their cooperation.
It is important to crate train your French Bulldog puppy even if you plan to give him the freedom of the house when he reaches adulthood. Regardless of breed, puppies explore, get into things they shouldn't, and chew things that can harm them. It can be expensive both to repair or replace destroyed items and to pay the vet bills that could arise, so crate training benefits your wallet and your temper as well as your puppy's wellbeing.
NUTRITION
A high-quality dog food appropriate to the dog's age (puppy, adult, or senior) will have all the nutrients the breed needs. Frenchies are prone to obesity, which can damage their physical structure and puts them at higher risk for some of the breed's health issues, so it is vital to watch their calorie intake and weight. If you choose to give your dog treats, do so in moderation. Give table scraps sparingly, if at all, especially avoiding cooked bones and foods high in fat. Learn about which human foods are safe for dogs and which are not. Check with your vet if you have any concerns about your dog's weight or diet. Recommended daily amount: 1 to 1.5 cups of high-quality dry food a day, divided into two meals.
NOTE: How much your adult dog eats depends on his size, age, build, metabolism, and activity level. Dogs are individuals, just like people, and they don't all need the same amount of food. It almost goes without saying that a highly active dog will need more than a couch potato dog. The quality of dog food you buy also makes a difference — the better the dog food, the further it will go toward nourishing your dog and the less of it you'll need to shake into your dog's bowl.